Tammet conveyor-belt meshes are made for moving different types of material on conveyor belts. Customised conveyor-belt meshes are made of metal and are a durable and long-lasting option. The high quality and dimensional accuracy of the meshes ensure the good functioning and longevity of the conveyor-belt mesh.
The mesh can be manufactured from various steel types, e.g. stainless steel, galvanised steel wire, or acid-resistant wire. Different special steel materials are also possible, e.g. heat-resistant wire (more than 1000 degrees Celsius). Conveyor-belt meshes are always tailored to the customer's needs.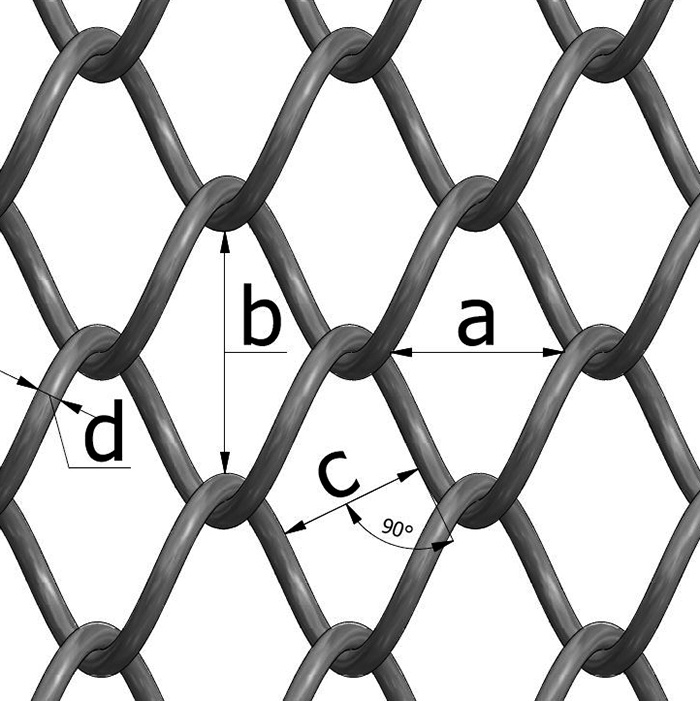 Series A
This mesh is best suited for transporting light loads as it stretches and becomes narrower when increasing the load.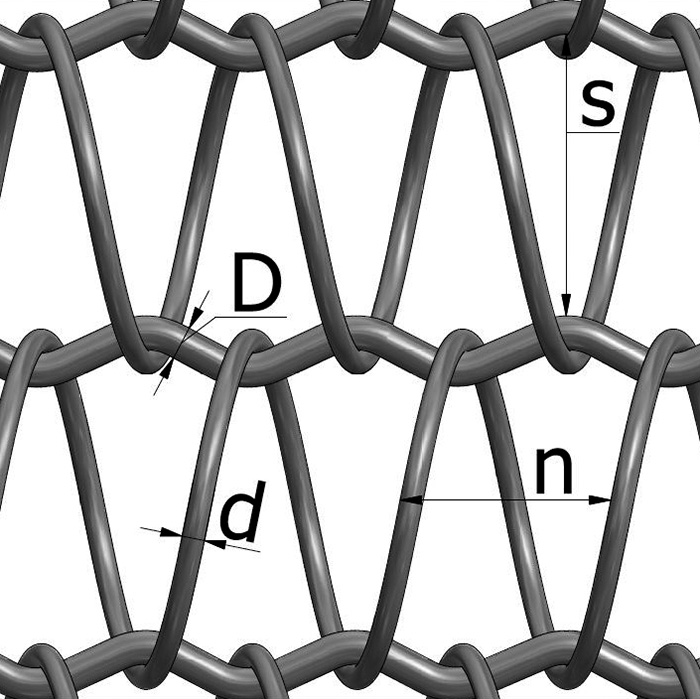 Series B
The most common conveyor-belt mesh option, suitable for both light and heavier loads. Due to its structure, the mesh is good at retaining its shape.
Series C
This mesh is suitable for light and heavy transport, especially for small objects.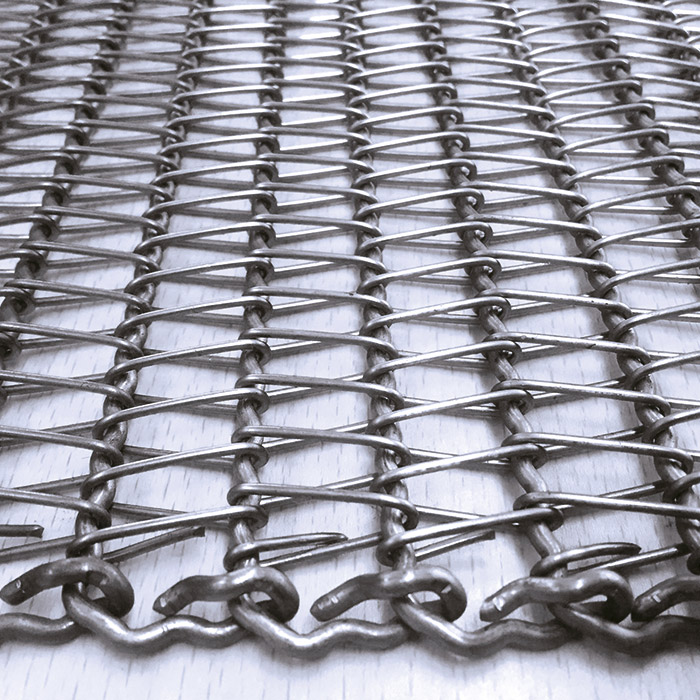 Series B bent edge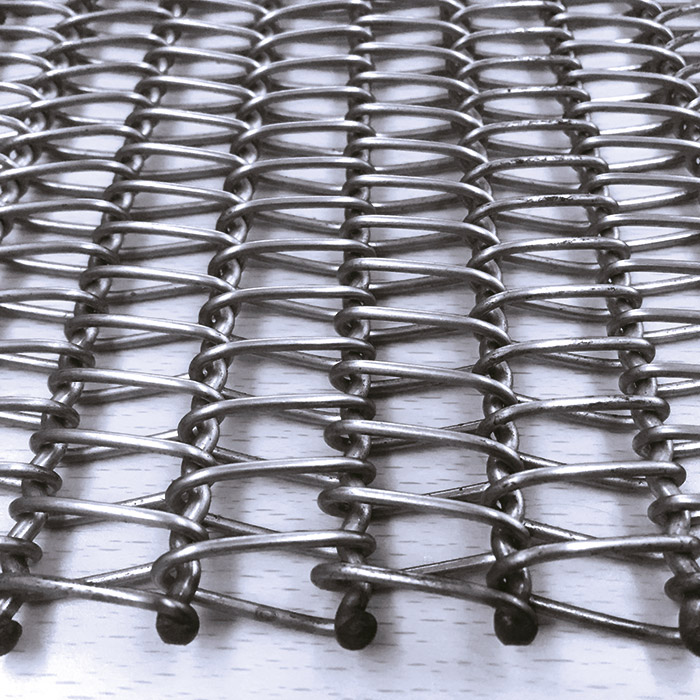 Series B welded edge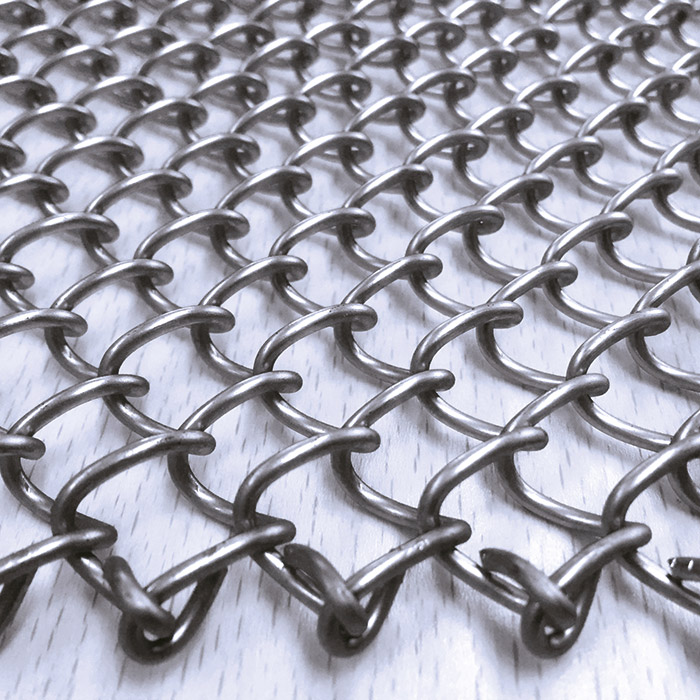 Series A bent edge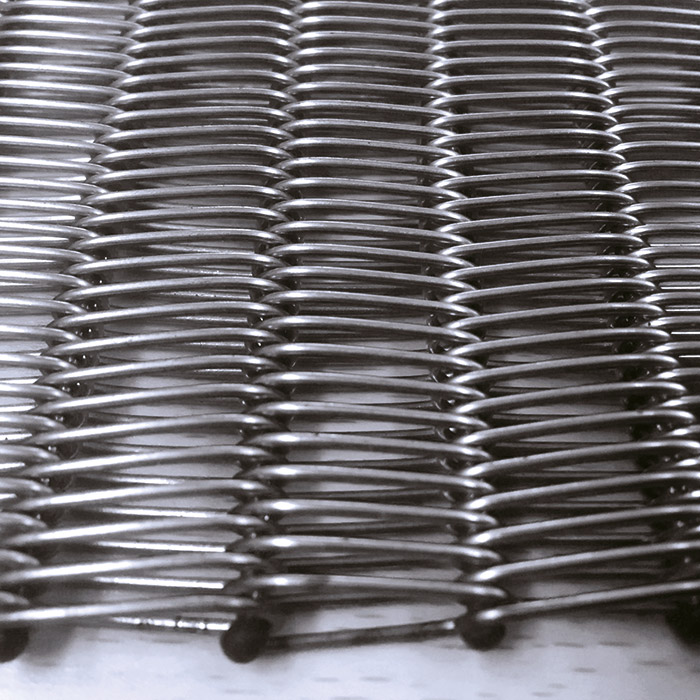 Series C welded edge
Series A, wire options for standard models
Diamond
(a x b or c) mm
Spiral wire
(d) mm
5
0,9-1,2
8
1,0-1,6
6 x 8
1,0-1,6
8 x 12
1,0-2,0
12
1,5-2,5
15
1,5-2,5
20
1,5-3,0
25
1,5-3,0
30
2,0-4,0
Series A, standard model
Type designation*
ca. Weight
kg/m²
A/5/1,0
2,8
A/8/1,2
2,7
A/6 x 8/1,6
5
A/8 x 12/1,6
5,3
A/12/2,0
5
A/15/2,0
4
A/20/2,5
4,5
* Type designation: A/a x b or c/d/k series A/diamond/spiral wire/field: field lengths, diamond size expressed either with the measures a x b, or C
Series B, wire options for standard models
Rod space
(s) mm
Spiral rise
(n) mm
Spiral wire
(d) mm
Rod wire
(D) mm
6
6,35
0,9-1,2
1,2-1,6
10
6,35
1,0-1,6
1,5-2,0
10
10
1,2-2,5
2,0-2,5
12
10
1,0-2,0
1,5-2,5
15
10
1,0-2,5
2,0-3,0
18
14
1,0-2,5
2,0-3,0
20
10
1,0-2,5
2,0-3,0
20
15
1,0-2,5
2,0-3,0
25
14
1,5-3,0
2,0-4,0
25
14
2 x 4
3,0-4,0
35
13
2,0-3,0
3,0-5,0
35
25
1,2 x 2,5
3,0-4,0
38
14
2,0-3,0
3,0-4,0
40
25
1,2 x 2,5
3,0-4,0
6
8
1,0-1,2
1,5-2,0
Series B, standard model
Type designation*
ca. weigth
kg/m²
B/1,0/1,5/6/6,35
6,5
B/1,2/2,0/10/6,35
6
B/1,2 x 2,5/2,5/10/10
11
B/2,0/2,0/12/10
10
B/1,5/2,0/15/10
5,5
B/2,0/3,0/18/14
12
B/1,5/2,5/20/10
5,4
B/1,2/3,0/20/15
4,5
B/2,0/3,0/25/14
7
B/2 x 4/4,0/25/14
16
B/3,0/5,0/35/13
16
B/1,2 x 2,5/3,0/35/25
4
B/2,0/4,0/38/14
6,7
B/1,2 x 2,5/3,0/40/25
3,7
B1,2/2,0/6/8 (kaksoisspiraali)
17,5
* Type designation: B/d/D/s/n series B/spiral wire diameter/wire rod diameter/rod spacing/spiral rise
Series C, wire options for standard models
Rod space
(s) mm
Spiral wire
(d) mm
Rod wire
(D) mm
10
0,9-1,5
1,5-2,0
15
0,9-1,5
1,5-3,0
18
1,0-2,0
1,5-3,0
20
1,0-2,0
1,5-3,0
22
1,0-2,0
1,5-3,0
25
1,5-3,0
2,0-4,0
35
2,0-3,0
3,0-5,0
40
3 x 5
5,0-6,0
50
3,0-5,0
5,0-10,0
Series C, standard model
Type designation*
ca. weight
kg/m²
C/1,2/2,0/10
10
C/1,2/3,0/15
13,8
C/1,2/2,0/18
10,2
C/1,5/2,0/20
C/1,6/3,0/22
14
C/2,0/3,0/25
19
C/3,0/5,0/35
30
C/3 x 5/6,0/40
27,5
C/3,0/8,0/50
34,5
* Type designation: C/d/D/s series C/spiral wire diameter/wire rod diameter/rod spacing
Contact
Michael Qvarnström
Sales Manager
Manufacturing